No, this is not ano­t­her news­let­ter or link collec­tion of what is going on in the German-speaking mar­kets. And this is also not an update on infec­tion, reco­very and mor­ta­li­ty rates. And it also does not enter the deba­te of who­se inter­pre­ta­ti­on of the natu­re of the virus is right and who­se is wrong.
This is a total­ly sub­jec­ti­ve sum­ma­ry and part­ly inter­pre­ta­ti­on of what we as tou­rism and com­mu­ni­ca­ti­on con­sul­tants think is rele­vant. For our coun­try, the hos­pi­ta­li­ty and tra­vel tra­de indus­try and the Ger­man spea­king media world. This is an incredi­ble time for ever­yo­ne with a lot of anxie­ty and not-knowing. Infor­ma­ti­on is key, espe­cial­ly when you have to come up with long-term decisions.
We hope you will find our ser­vice "Living with Coro­na" hel­pful. Plea­se drop us an email if you would like to dis­cuss or if the­re are fur­ther questions.
We are hap­py to help.
Stay safe, stay well!
Update No 6 / June 09, 2020
Gene­ral mobi­li­ty in Ger­ma­ny is almost back to nor­mal – see graph. Lock-down star­ted with the clo­sure of schools, kitas and uni­ver­si­ties on March10th. With the intro­duc­tion of mouth-face-protection on April 28th, four weeks later we are almost back to our nor­mal mobility.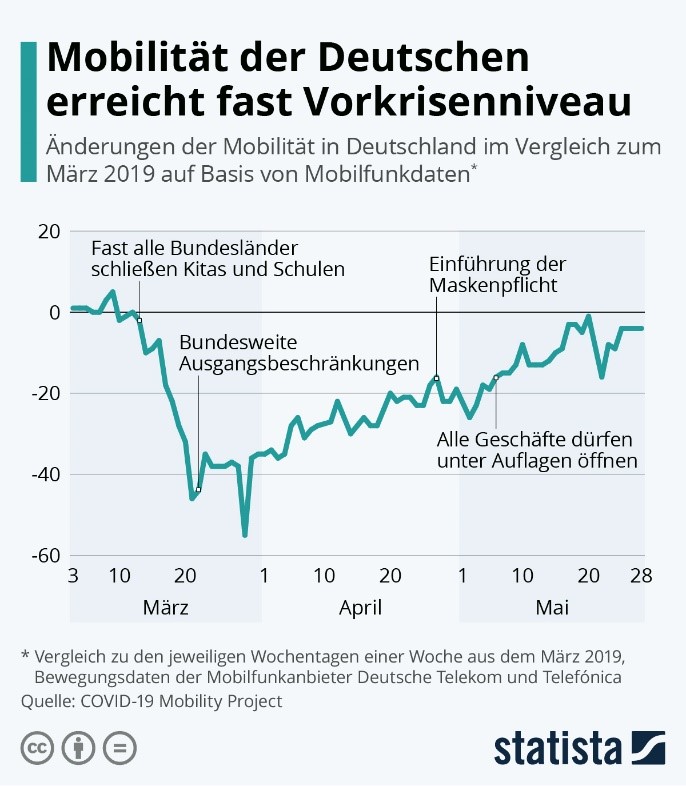 As of June 8th,182.028 peop­le in Ger­ma­ny were infec­ted, so far 8.522 have died with Covid-19 and 166.400 have wea­the­red the virus. Repro­duc­tion fac­tor cur­r­ent­ly stands at 1.2.
The New Nor­mal: "Time-slots are tren­ding" – Apps are com­ing
What is alrea­dy nor­mal in many coun­tries beco­mes the "New Nor­mal" in ever­y­day life in Ger­ma­ny now: pre-booked times­lots for din­ner, for a visit to the muse­um, to the zoo etc. Ent­ry to shops is limi­ted by num­bers and when going out we have to lea­ve our full address, even for just a cup of cof­fee.
Beach desti­na­ti­ons are mul­ling over apps to limit access of day visi­tors to beaches during sum­mer holi­days. Regis­tered guests and locals would have unli­mi­ted access. Sur­pri­sin­gly, all this works real­ly well without the usu­al moa­ning and groa­ning expec­ted from Germans.
Lift of tra­vel warnings for all 26 EU part­ner coun­tries plus asso­cia­ted coun­tries such as UK, Ice­land, Nor­way, Switz­er­land and Liech­ten­stein as of June 15th, 2020.
Ger­man court over­turns auto­ma­tic two-week self-quarantine for Ger­mans retur­ning home from out­side the EU – in this case from Thai­land as no long necessa­ry and hence ille­gal. This decisi­on is definite.
Wit­hin the EU, regio­nal tra­vel warnings will be impo­sed again if the­re are more than 50 new infec­tions over seven con­se­cu­ti­ve days wit­hin a group of 100.000 people.
Update on Covid-19 tests pos­si­bi­li­ties in Ger­ma­ny:
Some governments and aut­ho­ri­ties are toy­ing with the idea of deman­ding a nega­ti­ve Covid-19 test from for­eig­ners befo­re ent­e­ring their coun­try. The test must not be older than three days and needs to be in a for­eign lan­guage, at least in Eng­lish, French or Spa­nish.
We tried to find out whe­ther we could have such a test done in Ger­ma­ny in order to go on holi­day – and the results are more than sobering.
As of June 09th the­re is no uni­form approach to Covid-19 tests in Ger­ma­ny yet. Natio­nal and regio­nal health aut­ho­ri­ties are not infor­med and trans­fer­red us with our ques­ti­ons to the fami­ly prac­ti­tio­ner. The fami­ly prac­ti­tio­ner is unab­le to per­form such a test due to lack of lab capa­ci­ty. Cen­tra­li­zed labs only test for health rea­sons. Labs at the air­port (Frank­furt and Munich) are cur­r­ent­ly the only opti­on to get a test done wit­hin the reques­ted time frame.
Cos­ts per per­son vary bet­ween 100 and 250 Euros.
"Ent­de­cke Deutsch­land"
Ger­mans are stron­gly encou­ra­ged to dis­co­ver the beau­ty of their own coun­try this sum­mer and stay at "home".
For the first time in our histo­ry all 16 federal DMOs have signed in on a joint digi­tal cam­pai­gn and a joint web­site to push domestic tra­ve­ling https://entdecke-deutschland.de/ .
A clear con­cept, mini­ma­lism in topics and edi­to­ri­al con­tent and modern story-telling com­bi­ned with vide­os and 360°degree pho­to­gra­phy clear­ly tar­gets the mill­en­ni­al and digital-savvy tar­get groups.
Topics are: "Ruhi­ge Ecken" (quiet envi­ron­ment), "Lieb­lings­or­te" ( My favou­rite spot) ""Klei­ne Aben­teu­er" (a litt­le bit adven­tur­ous ) and "Per­fek­te Wochen­en­den" (per­fect wee­kends). No edi­to­ri­al over­load any­mo­re and a clear yes to "less is more" and to les­ser known are­as and regi­ons in Germany.
30 % of poten­ti­al holi­day makers will defi­ni­te­ly spend their holi­days wit­hin Ger­ma­ny; 38% are still inde­cisi­ve, 30% pre­fer holi­days out­side Ger­ma­ny but are not sure whe­ther their boo­ked holi­days will be pos­si­ble. A total of 76% belie­ve, holi­days wit­hin Ger­ma­ny could be a very good opti­on as well. (Reisevor9)
Accord­ing to boo­king­kit, natio­nal out­door adven­ture and natu­re tra­vel­ling is boo­m­ing again sin­ce end of shut-down with cur­r­ent­ly 85% of boo­kings against 2019! Espe­cial­ly kayak safa­ris, clim­bing, boa­ting and being out­door are trending.
Luft­han­sa has accep­ted the sta­tu­to­ry requi­re­ments that come with the bail-out and shared a 3‑year-recovery plan. One of the EU requi­re­ments was to hand-over attrac­ti­ve slots at the hubs in Munich and Frank­furt which is not such a big deal as inter­na­tio­nal and Euro­pean requests for slots have natu­ral­ly col­lap­sed right now. All that is mis­sing are the fre­quent tra­velers to fill the pla­nes. LH cur­r­ent­ly flies to 100 desti­na­ti­ons –the load fac­tors are top secret.
In May we con­duc­ted a sur­vey among 350+ seni­or edi­tors of tra­vel media (print & online) in DACH to learn first-hand about their plans for the future of their tra­vel maga­zi­nes and tra­vel pages in post-corona times. We also wan­ted to learn more about topics & sto­ries they might be inte­res­ted and to get a clea­rer idea of how tou­rism pr agen­cy can sup­port them best.

The ans­wers of the tra­vel wri­ters and edi­tors in a nutshell:
Tra­vel pages are no "Coro­na Ticker" but want to remain a source of tra­vel inspi­ra­ti­on.
As pre­vious­ly, edi­tors want to stress the beau­ty of tra­vel, encou­ra­ge dis­co­vering dif­fe­rent cul­tures and see them­sel­ves as tra­vel story-tellers. PR depart­ments may only encou­ra­ge or help with story-telling. But the story-writing and tel­ling is done by the edi­tors and their teams. And this will make tra­ve­ling necessa­ry the soo­ner the bet­ter. Ever­yo­ne is real­ly keen on rese­arch and press trips asap.
Right now edi­tors are floo­ded with com­mer­cial infor­ma­ti­on (vou­chers, tra­vel later-book now, added bene­fits for boo­kings) from agen­ci­es and tou­rism com­pa­nies. They have asked us sprea­ding the news that this is not what they need. As befo­re Coro­na, com­mer­cial infor­ma­ti­on will not be picked up by media and belong into the field of mar­ke­ting com­mu­ni­ca­ti­on or social media – even bet­ter on the home page or to be used in direct marketing.
Top 5 most immedia­te tra­vel topics for edi­tors after the shut-down:
Tra­vel­ling wit­hin Ger­ma­ny. Aus­tri­an media con­cen­tra­te on Aus­tria and Swiss media on Switz­er­land; Trips wit­hin Euro­pe avoiding over-tourism destinations
Dream desti­na­ti­ons – inter­na­tio­nal tra­vel. Sto­ries, desti­na­ti­ons that have a long shelf-time or have been Germans/Austrians or Swiss' favou­rite alrea­dy in the past.
Indi­vi­du­al trips – no group tra­vel (but that was alrea­dy the same befo­re Corona)
Niche topics, such as bike tours, kayak-safaris, sto­ries from B and C desti­na­ti­ons avoiding over-tourism
Ser­vice & News Gui­des – Ever­ything that hel­ps to build up trust and con­fi­dence in natio­nal and inter­na­tio­nal tra­vel again.
Top 5 least rele­vant tra­vel topics after the shut-down:
Awards& acco­la­tes
Coro­na safe­ty and hygie­ne pro­to­cols. Not the ump­te­enth hand saniti­zer again!! Coro­na rela­ted news when it is necessa­ry for the sto­ry or extra­or­di­na­ry. Like the NZ's prime mins­ter dance of joy, when NZ was decla­red corona-free!
Crui­ses and incen­ti­ves for cruises.
Com­mer­cial infor­ma­ti­on (see abo­ve) espe­cial­ly not vou­cher info. Vou­cher are a sen­si­ti­ve topic in Ger­ma­ny anyway.
Unin­spi­ring pro­duct infor­ma­ti­on (reno­va­tions, refur­bish­ments, "We are open")
Media plans for the future?
We wan­ted to know how coro­na may chan­ge or influ­ence future tra­vel pages.

The past 12 weeks deman­ded a lot of fle­xi­bi­li­ty and were a con­stant race against ever chan­ging situa­tions. Long-term plan­ning was a thing of the past and impro­vi­sing and expe­ri­men­ting with new for­mats (vir­tu­al inter­views, zoom mee­tings, you­tube sport ses­si­ons, Spo­ti­fy lists, online coo­king clas­ses) found its way to the online and even some­ti­mes print edi­ti­ons. Media learnt to be more agi­le with their con­tent, and con­tent beca­me more crea­ti­ve and professional.
High on the wish list of seni­or edi­tors is that we all (cli­ents and pr agen­ci­es) keep up this high level of pro­fes­sio­na­lism and crea­ti­vi­ty and keep deve­lo­ping it even fur­ther. The good old press release has long stop­ped being a means that goes strai­ght to the prin­ter. It is a source of infor­ma­ti­on but needs to accom­pa­nied by fur­ther sug­ges­ti­ons of how to spin this sto­ry, by a gre­at ser­vice sec­tion, out­stan­ding image­ry and film sequen­ces and so on.
As soon as the indiv. tra­vel poli­cy of the edi­t­ing houses will allow, tra­vel wri­ters will start tra­vel­ling again.
Some may be con­si­de­ring working with cor­re­spondents when it comes to inter­na­tio­nal tra­vel but that has its natu­ral limits.
At this point it is not clear how the new tra­vel poli­ci­es may chan­ge and whe­ther spe­cial insuran­ces may beco­me applicable.
Social Media:
Currently,high-end influ­en­cers con­cen­tra­te more on coope­ra­ti­ons out­side tou­rism main­ly inte­rior design, fashion, sport, nut­ri­ti­on and baby­ca­re & home stories.
Tra­vel blog­gers con­cen­tra­te on Ger­ma­ny and Euro­pe or pro­du­ce throw-backs and have star­ted making plans for their first inter­na­tio­nal tra­vels again.
It loo­ks as if the show is rea­dy to begin again …
Update No 5 / May 14, 2020
Pha­se TWO has star­ted with gra­du­al re-opening of restau­rants, busi­nes­ses, shops, hair-dressers, gyms, muse­ums etc. with hotels & public swim­ming pools to fol­low end of this mon­th. Ange­la Mer­kel has now han­ded over respon­si­bi­li­ty to the cabi­net and federal ministers
Cur­r­ent­ly we have no unani­mous rules&regulations in place. Every coun­ty defi­nes their own rela­xa­ti­on of the lock­down. Should the infec­tion rate rise again, very strict local con­fi­ne­ment mea­su­res will be app­lied under the respon­si­bi­li­ty of the local or regio­nal governments.
In other words: a new, nation-wide shut-down sce­n­a­rio is very unli­kely in the near future.
Social distancing is still man­da­to­ry as much as mouth/nose masks. Con­ta­ct restric­tions in public space have been slight­ly lifted. Some federal sta­tes allow events of up to 100 people.
Bor­ders to our neigh­bou­ring coun­tries are about to open with first ten­ta­ti­ve test-runs with Aus­tria and Fran­ce this week. Switz­er­land, Den­mark, The Nether­lands, Czech Repu­blic, Poland, Bel­gi­um, Luxem­bourg will fol­low next if bila­te­ral agree­ments can be reached.
The neces­si­ty for 14-days man­da­to­ry self-quarantine upon return to Ger­ma­ny when tra­vel­ling wit­hin the EU has been over­ru­led by our con­sti­tu­tio­nal court. It beco­mes only app­li­ca­ble when retur­ning from a third coun­try. It is a good guess that this order is going to be over­ru­led as well pret­ty soon.
"Tem­pe­ra­tu­re checks may beco­me part of Air­line Boar­ding Processes"
The Euro­pean sec­tions of ACI (Air­ports Coun­cil Inter­na­tio­nal) is working on a con­cept for man­da­to­ry tem­pe­ra­tu­re scree­nings for all embar­king and disem­bar­king pas­sen­gers befo­re secu­ri­ty con­trol.
The Ger­man sec­tion (ADV) is not in favour of this initia­ti­ve as it is con­si­de­red as un-reliable (it cat­ches only bet­ween 25 and 50 per­cent) and far too slow. The Ger­man sec­tion is more in favour of self-responsibility and ran­dom checks. Also, ther­mal came­ras could be an opti­on or digi­tal health pass­ports or apps car­ry­ing COVID-19 test results.
Frank­furt and Munich Air­ports are rea­dy for going back to the new nor­mal: Social distancing is app­lied with seat-blockers and mar­kers on the floor. Ple­xi­glass sepa­ra­tes guests and staff, facial masks are man­da­to­ry in sen­si­ti­ve are­as, check-in will be done in much smal­ler groups and fre­quen­cy of shut­tles bus­ses will be increased.
More and more air­ports are going to intro­du­ce self-paid quick tests for Covid-19. After about three hours wai­t­ing in a dedi­ca­ted area inco­m­ing pas­sen­gers may know whe­ther they are posi­ti­ve or nega­ti­ve. It is not clear yet, whe­ther the new tests make self-quarantine after inter­na­tio­nal tra­vels unne­cessa­ry.
Cur­r­ent­ly in place at Vien­na Airport.
All air­lines make facial masks man­da­to­ry throughout the who­le flight. No infor­ma­ti­on yet on chan­ges to the inf­light service.
Ger­ma­ny says "Yes" to their sum­mer holidays
Ger­ma­ny is a beau­ti­ful coun­try with more than 130 natio­nal parks, bio­s­phe­re reser­ves and natu­re parks and more than 200.000 km of mar­ked wal­king trails and over 70.000 km of long-distance cycle rou­tes. Almost end­less oppor­tu­nities for an action-packed acti­ve holi­day. And yet, it is not enough space for the expec­ted sud­den release of pent-up cus­to­mer demand this com­ing summer.
Ger­mans are tra­vel world cham­pions and we want to remain tra­vel world champions.
Fol­lowing are fife rea­sons why sum­mer holi­days in Ger­ma­ny alo­ne is hard­ly an opti­on for all 82 Mil­li­on Germans:
Ger­mans love beach holi­days but the­re is not enough hotel and B&B capa­ci­ty espe­cial­ly not in the typi­cal holi­day desti­na­ti­ons with a shore line along the Bal­tic Sea and along the North Sea
In total, Germany's shore­li­ne only accounts for 2.400 km, all islands included.
Water tem­pe­ra­tu­re and swim­ming opti­ons. North Sea has enor­mous tidal flats. Both North Sea and Bal­tic Sea have an average water tem­pe­ra­tu­re of bet­ween 13 degrees to up to 19/20 degrees in August. Too cold for most of the holi­day makers. Yes, the­re are beau­ti­ful lakes in Ger­ma­ny. But a lake is not the sea or oce­an, right?
In order to redu­ce the num­ber of poten­ti­al holi­day makers and thus the risk of re-infections, the local governments of the four main domestic sum­mer coun­ties – Mecklenburg-Vorpommern, Lower-Saxony, Schleswig-Holstein and Bava­ria – have set-up cer­tain rules such as a mini­mum of seven nights stay and a reduc­tion of boo­ka­ble hotel capa­ci­ty by 50 %. This will redu­ce capa­ci­ty even more.
Less than 10 % of Ger­mans book their domestic sum­mer holi­day through tra­vel agen­ci­es let alo­ne tour ope­ra­tors. Even if Ger­ma­ny had the bed capa­ci­ty for all domestic tra­vels it would not help the ailing tra­vel indus­try. And this indus­try is in dire demand for business.
Sum­mer holi­days in Ger­ma­ny have been expen­si­ve in the past and will get more expen­si­ve. The Ger­man Fer­ry Asso­cia­ti­on North Sea has just announ­ced to incre­a­se the alrea­dy very high fer­ry fare by 50% this summer.
Ger­mans want to get OUT and out also means cros­sing borders.
News from lar­ge tour ope­ra­tors: Lon­gest Boo­king Win­dow ever!
Now , that TUI has secu­red enough finan­cial sources, TUI is hoping to open up typi­cal sum­mer desti­na­ti­ons for Ger­mans such as Greece, Cyprus, Bul­ga­ria, Por­tu­gal, the Cana­ry Islands and Balea­ric Islands step by step for sum­mer holidays.
It is the first time in histo­ry that we can book holi­days up to 510 days in advan­ce! FTI has ope­ned boo­kings for sum­mer 2021 with empha­sis on packa­ge holi­days to Egypt, Tur­key, UAE, Oman Moroc­co, Tuni­sia, Bul­ga­ria, Ita­ly, Ger­ma­ny and city trips world­wi­de.
In a next step long-haul packa­ge holi­days will be ope­ned on Amadeus/Bistro with empha­sis on USA, Cana­da, Aus­tra­lia, New Zealand.
News from popu­lar sum­mer destinations:
All tou­rism aut­ho­ri­ties are keen to re-open as quick­ly as pos­si­ble with various sce­n­a­ri­os. Regai­ning TRUST is the core com­mu­ni­ca­ti­on mes­sa­ge of all their mar­ke­ting acti­vi­ties.
Pri­va­te sec­tor and hotels in all desti­na­ti­ons are going to incre­a­se their digi­tal ser­vices to redu­ce the num­ber of peop­le and wai­t­ing time, espe­cial­ly during check-in or at ticket boxes.
All Minis­tries of Tou­rism belie­ve that word of mouth from first guests on their easy, rela­xing and safe "Tra­vels with Coro­na" will bring the necessa­ry push for fur­ther boo­king. The prime objec­ti­ve the­re­fo­re is to get it right throughout the who­le cus­to­mer jour­ney and at every sin­gle tra­vel touch-point.
Fol­lowing is a brief sum­ma­ry of what indi­vi­du­al coun­tries are doing & com­mu­ni­ca­ting to attract boo­kings from Germany.
Tur­key & Egypt:
Both hotel asso­cia­ti­ons put spe­cial empha­sis on hygie­ne and on extra staff trai­ning. Self-service and buf­fets will be a thing of the past.
The majo­ri­ty of hotels in Turkey& Egypt are rather lar­ge which is seen as an advan­ta­ge as app­ly­ing social distancing in all resort/hotel are­as is easier in a lar­ge hotel on max. 50 % capacity.
Tur­kish hotels will also incre­a­se the num­ber of medi­cal­ly trai­ned staff and the num­ber of in-house, German-speaking doctors.
Egypt will incre­a­se digi­tal ser­vices & and re-think the trans­fer chal­len­ges – more pri­va­te limou­si­ne and taxi rather than lar­ge buses. With coach trans­fers, Egypt intends to learn from the air­line industry.
Spain:
Spain is in a dif­fi­cult situa­ti­on as it was/is hit so hard by Coro­na. Safe­ty / secu­ri­ty has top prio­ri­ty for Spain. The Government is cur­r­ent­ly working on a "Covid-Free" Label" for hotels and will incre­a­se the num­ber of social distancing guards on the beaches and in tou­ris­tic hotspots.
Balea­ric Islands: Spain eases the com­ple­te shut-down by ope­ning up the smal­ler islands first (Form­en­te­ra, La Gome­ra, El Hier­ro, La Gra­cio­sa). Domestic tra­vel will be allo­wed as of June 22nd. Most likely Euro­pean or even inter­na­tio­nal tra­vel will beco­me pos­si­ble as well as of this date.
Cana­ry Islands: The smal­ler islands have been allo­wed out of shut-down, howe­ver under very strict con­di­ti­ons that make joint guest expe­ri­en­ces pret­ty dif­fi­cult.
Turis­mo de Gran Cana­ria has been gran­ted 5 Mio Euros for a repo­si­tio­ning of the island's image.
Turis­mo de Tene­ri­fe is rea­dy to boun­ce back with a radi­cal­ly new image and stra­te­gy and new tar­get groups: Young tra­velers and young fami­lies who have pre­vious­ly avoided Tene­ri­fe becau­se of its old-age pen­sio­ner image. Cur­r­ent­ly, the tou­rism indus­try is working on an orches­tra­ted relaunch-strategy to be rea­dy for their high sea­son Oct. through to April.
Tene­ri­fe wants to beco­me an "intel­li­gent tra­vel destination."
Por­tu­gal:
Por­tu­gal has not had many Covid-19 cases. It has exe­cu­t­ed a rather effi­ci­ent and tough cri­sis com­mu­ni­ca­ti­on and will be one of the first coun­tries with a "Clean& Safe" cer­ti­fi­ca­te for the who­le tou­rism indus­try. To recei­ve this cer­ti­fi­ca­te every sin­gle tou­rism sec­tor from tour gui­de to hotel ope­ra­tor must fol­low a very strict pro­to­col for staff secu­ri­ty, hygie­ne and guest relations.
Greece:
Greece is hoping to ful­ly boun­ce back in July fol­lowing a strict 7step pro­to­col set up by the government. Hotels and restau­rants will open as of June 1st to the domestic market
Update No 4 / April 29, 2020
Against strong advice from most viro­lo­gists, our government has gra­du­al­ly eased lock­down mea­su­res with the effect that Ger­ma­ny is a real rag rug now when it comes to rules&regulations.
Shops under 800 squa­re metres were allo­wed to open their doors to the public under cer­tain hygie­ne rules. Schools will gra­du­al­ly start reope­ning from May 4th howe­ver with very dif­fe­rent solu­ti­ons for the age groups.
Bars, cafes, restau­rants, cine­mas, music venues and most of the hotels will all remain clo­sed until fur­ther notice.
Ano­t­her major topic is how to end our foot­ball sea­son with nine more match days until the finals. Some coun­ties have ope­ned their golf cour­ses for their mem­bers and redu­ced the num­ber per flight to two. And yet, all play­grounds for child­ren, Kitas and Kin­der­gar­den remain clo­sed nation-wide until fur­ther notice.
All big events have been can­cel­led natio­nal­ly until end of Sep­tem­ber. Cur­r­ent­ly Minis­ters are dis­cus­sing solu­ti­ons for Christ­mas markets.
Social distancing rules are still in place and wea­ring facial masks in shops and on public regio­nal trans­port has beco­me man­da­to­ry– but not when tra­vel­ling on the ICE or EC trains.
World-wide tra­vel warning: Ger­man pass­ports will remain in our dra­wers until at least June 14th, 2020 our Minis­ter of For­eign Affairs, Hei­ko Maas, just announ­ced. With this order, Whit­sun Holi­days may offi­cial­ly be can­cel­led now.
Hei­ko Mass said he is see­king a Euro­pean ans­wer to the ques­ti­on of tra­vel warnings but does not pre­clu­de bila­te­ral agree­ments eit­her. Without a joint solu­ti­on, governments will find them­sel­ves in the invidious posi­ti­on of having to take poli­ti­cal­ly and elec­to­ral­ly sen­si­ti­ve decisi­ons. The­se decisi­on will have a very, very long shelf-time (cur­r­ent­ly Ita­ly vs. Ger­ma­ny and Ger­ma­ny – Spain) and very often may have xeno­pho­bic implications!!!
It is likely that the EU or indiv. coun­tries may not immedia­te­ly encou­ra­ge exter­nal tra­vel, pre­fer­ring to incen­ti­vi­ze eit­her stay­ca­ti­ons or domestic/national tra­vel in an attempt to boost domestic growth and pro­tect natio­nal public health.
Decisi­ons on wel­co­m­ing inco­m­ing guests will depend on the infec­tion rate and mea­su­res taken in the coun­try of origin.
And final­ly Luft­han­sa and Con­dor – a bit like Dragon's Den: Luft­han­sa is pro­bab­ly play­ing the big­gest poker-game ever sin­ce it was foun­ded.
The deal on the table is a loan of nine more Bil­li­on Euros from the government against 25 per­cent shares and two voting seats on the board which is not accep­ta­ble for CEO Cars­ten Spohr and his team. LH is cur­r­ent­ly toy­ing with a con­trol­led bankrupt­cy.
Con­dor, on the other hand, has recei­ved a govern­men­tal loan of 300 Mil­li­on €uro and can con­ti­nue with its operation.
TUI has alrea­dy recei­ved a government loan of 1.8 Bil­li­on Euro and the amount is in the TUI accounts. TUI now has 3.3 bil­li­on Euro to pay their depths and the first pay­ments shall be pro­ces­sed as of May 04th
TUI/Airtours have can­cel­led all cus­to­mer boo­kings up till May 15th The good news is that 82% of the cli­ents have reboo­ked their trips alrea­dy, 52% of the cli­ents reboo­ked to the same desti­na­ti­on and 41% the same product/hotel.
51% of all Ger­mans plan to tra­vel wit­hin this year. Ger­ma­ny has the hig­hest num­ber out of all Euro­pean coun­tries of peop­le wil­ling to tra­vel. They would even book now, if they would not need to worry about can­cel­la­ti­on fees or could rebook free of char­ge and get a refund for the air ticket.
From June onwards it is expec­ted that domestic tra­vel will be pos­si­ble again. Wit­hin the next six mon­ths, 58% of Ger­mans would like to tra­vel wit­hin Ger­ma­ny, 38% out­side of Ger­ma­ny and 31% said they will only tra­vel in a years' time. What was impres­si­ve is that 26% wish to tra­vel to a beach desti­na­ti­on wit­hin the next three month.
The major con­cerns of the tra­velers are:

Safe­ty and security
To get stuck in a desti­na­ti­on and not being able to return home
The tour ope­ra­tor files bankruptcy

Very inte­res­ting is that only 2% have con­cerns about the environment.
To make peop­le book the fol­lowing boo­king incen­ti­ves would help:

Can­ce­la­ti­ons without any fees
Cash return ver­sus vouchers
Offers with fle­xi­ble dates
Inspi­ring con­tent in Social Media / Communication
Added bene­fits for later tra­vel – like vou­chers for spa, drinks, Captain's din­ner, wine/sugar/beer/whiskey tas­tings, coo­king clas­ses and so on.

Desti­na­ti­ons: In the cur­rent sce­n­a­rio, Croa­tia is the win­ner, fol­lo­wed by Sey­chel­les, Mau­ri­ti­us, Moroc­co, Greece, Indo­ne­sia and South Afri­ca. The grea­test drop is seen in Spain, USA, UAE and Tur­key.
Cur­r­ent­ly the top desti­na­ti­ons for Win­ter 20/21 are Mal­di­ves, UAE and Spain. The requests for sum­mer 2021 are alrea­dy increasing.
The reco­very of tou­rism?: Air­tours sees the boo­kings picking up as from August onwards and expects tra­vel wit­hin Euro­pe as of August/September. Long-haul tra­vel as of Q4 with a bit of luck, but for sure as of fes­ti­ve sea­son 2020/21.
Facts by Stef­fan Boen­ke, Head of TUI Hotelbrands/Cruises & Direc­tor air­tours, luxu­ry brand of TUI
For the first time in histo­ry, the tra­vel indus­try has initia­ted ral­lies in 30 cities in Ger­ma­ny to crea­te awa­reness that this indus­try is hit most. #Safe the tra­vel Indus­try and #Tou­rism keeps the world tog­e­ther.
B2B dis­cus­sions have final­ly been initia­ted about the over-dominant power and influ­ence of lar­ge tour ope­ra­tors espe­cial­ly with regards to cash flows, rates and pay­ment morale.
The vou­cher solu­ti­on for alrea­dy paid tra­vels has been sei­zed by the EU and once again the EU demons­tra­ted how serious they are about con­su­mer rights.
If you have to go, do it with gran­dez­za: 180 final pages of unusu­al tra­vel sto­ries, insights into other cul­tures, heart-warming por­traits and always stun­ning pho­to­gra­phy is the fare­well pre­sent to all rea­ders of our oldest tra­vel maga­zi­ne aben­teu­er + reisen.
With 40 years of tra­vel sto­ries, aben­teu­er + rei­sen was our oldest mono­the­ma­ti­cal tra­vel maga­zi­ne and the forerun­ner of aug­men­ted rea­li­ty and vir­tu­al rea­li­ty in tou­rism. Rea­ders loved the maga­zi­ne. But it is dif­fi­cult to live on love alone.
I am sure we will soon see a new, digi­tal and even bet­ter ver­si­on of the "old" aben­teu­er + rei­sen" – stay tuned!
Update No 3 / April 22, 2020
It is kind of iro­nic: Print cir­cu­la­ti­ons and clas­sic TV pro­gram­mes are cur­r­ent­ly soa­ring. Among the top-ten TV pro­gram­mes last week, six were news pro­gram­mes, three cri­mi­nal stories !
And yet the edi­t­ing houses have to intro­du­ce short-time work and even lay off staff becau­se of lack of adver­ti­sing.
In order not to ask for government sub­si­dies (it would most likely impe­de their edi­to­ri­al free­dom) our five major edi­t­ing houses are all loo­king into new formats.
The ten­den­cy for new for­mats is much clea­rer with audio media (plea­se see below). Print media are slower in their respon­se to pos­si­b­ly new rea­ding or con­sump­ti­on habits. A lot of inte­res­ting expe­ri­ments are cur­r­ent­ly going on. For examp­le in order to streng­t­hen rea­ders­hip ties, media groups start offe­ring added values such as digi­tal maga­zi­nes and e‑papers free of char­ge until April 30 (Gru­ner + Jahr).
Fol­lowing an inter­na­tio­nal sur­vey, con­su­mers expect that brands remain visi­ble in the­se days and stay in touch. Only 9% of Ger­man con­su­mers said that brands should pau­se their adver­ti­sing during coro­na, 51% see ads as infor­ma­ti­on tool and 24% expect to get a fee­ling of con­ti­nui­ty and kind of nor­ma­li­ty. 13% would appre­cia­te posi­ti­ve and enter­tai­ning con­tent with a link to coro­na but not too much.
Cur­r­ent­ly, we see an Audio Boom in Ger­ma­ny, thanks to new POD­CASTs and live­streams. Espe­cial­ly tra­vel blog­gers and micro influ­en­cers' are tap­ping into this so far under­re­pre­sen­ted field in Germany.
A few inte­res­ting facts on PODCASTS:

Pod­casts are tren­ding: cur­r­ent­ly the­re are 22.000 german-speaking podcasts.
49% of all smart­pho­ne users are fami­li­ar with pod­casts and 47% fol­low podcasts
pod­cast are espe­cial­ly popu­lar among 14 – 35 year olds. The typi­cal pod­cast user is tech-savvy, enjoys a tren­dy life­style, has a hig­her spen­ding pat­tern and is very podcast-loyal. Pod-casters are their per­so­nal men­tor and almost best friend!

Pod­cast users are a "pre­mi­um trip­le A tar­get group"
In Ger­ma­ny, pod­casts are yet to be dis­co­ve­r­ed by adver­ti­sing brands with Voda­fone being the first main spon­sor for tra­vel podcasts.
Bes­i­des the alrea­dy estab­lis­hed news&science and come­di­an pod­casts the­re are cur­r­ent­ly two newer types of Pod­casts:
Bran­ded Pod­casts: e.g. Luft­han­sa, Mer­ce­des,: They all claim a topic or some topics that fit their own brand – Luft­han­sa = Fly­ing; Mer­ce­des = inno­va­tions – but never push their brand on the pod­cast
Cor­po­ra­te Pod­casts: Are main­ly for inter­nal use. Nevertheless they need to be done pro­per­ly and need to be entertaining.
We have noti­ced that the 500,000k++ influ­en­cers with a reach out to tou­rism and hos­pi­ta­li­ty have beco­me rather inac­ti­ve at this moment, For them, spon­so­red posts decli­ned in March by 39% alrea­dy, with 80% for tou­rism influ­en­cers. Most of them have tur­ned to more per­so­nal posts on their coro­na life­styles and the like with much les­ser enga­ge­ment rate than previously.
Micro influ­en­cers,25.000++, fol­low the most important rule during a cri­sis: Stay in touch and keep enga­ged with your audi­ence. Give your com­mu­ni­ty the fee­ling they are not for­got­ten & that you still honest­ly care about them. Their average enga­ge­ment rates have incre­a­sed which shows they have a clo­ser con­nec­tion to their community.
Blog­gers are tren­ding, as they can reach out to their audi­ence with very per­so­nal sto­ries. And this is the time to share sto­ries and fee­lings rather than work on a visu­al bucket­list or boast with for­mer tra­vel experiences.
All arti­cles or blogs that appe­ar have in one way or the other to do with coro­na. – E.g blog­gers make video calls with the oli­ve far­mer in Ita­ly and ask him and her how they are dealing with the situa­ti­on. Or the Bar­ris­ta in New York ….
#dontcan­cel­post­po­ne has not real­ly picked up in Ger­ma­ny as it was con­si­de­red a rather self-centered and ill-timed appeal at the time. Influ­en­cers using this # crea­ted qui­te a shit­s­torm and so did all the #throw back posts.
"Living in a box" is an initia­ti­ve of an Ita­li­an com­pa­ny to secu­re the sum­mer beach sea­son 2020. The com­pa­ny has desi­gned a ple­xi­glas box which is big enough for two sun beds and a para­sol and could be set up on beaches to meet the social distancing measures.
Update No 2 / April 8, 2020
With almost 10 days in a semi-shut down situa­ti­on the atmo­s­phe­re in Ger­ma­ny is still okay and the over­all accep­t­ance of the cur­rent restric­tions for social distancing has risen con­si­der­ab­ly. We can still go out for walks and phy­si­cal exer­cise but only as fami­ly mem­bers or in pairs.
The local governments have impo­sed sub­stan­ti­al fines for vio­la­ti­ons of the­se rules – some of them, howe­ver, seem a bit odd. E.g. you are fined 200 Euros for sit­ting all by yourself on a bench rea­ding a book but as a jog­ger you may over­ta­ke igno­ring social distancing L. Oppo­si­ti­on and public cri­ti­cism start rising on social media plat­forms and even among experts. That's a good sign as demo­cra­tic mecha­nism are still ali­ve J
Man­da­to­ry or not? Pro­tec­ti­ve masks are still a topic. At pre­sent, the government still abs­tains from a gene­ral order wea­ring masks in public are­as – even against the strong advice from spe­cia­lists. Peop­le have star­ted pro­du­cing their own masks. At the same time lawy­ers are cashing in money with warnings that you are not allo­wed to call them pro­tec­ti­ve mask and of cour­se you are not allo­wed sel­ling mask unless you've got an offi­cial tra­de num­ber and can pro­ve you are a skil­led seamstress!
Cur­r­ent­ly the government is pre­pa­ring pha­se one out of the shut-down. First infor­ma­ti­on is being expec­ted on or after April 14th. Rea­listi­cal­ly spea­king, we are all loo­king at May 2nd for a lift of move­ment and work restrictions.
Ange­la Merkel's third Covid-19 test while in qua­ran­ti­ne was nega­ti­ve and she is back on track doing what she can best – cri­sis communication!
Our par­lia­ment is still working app­ly­ing mas­si­ve social distancing. All par­ties have agreed not to chal­len­ge reso­lu­ti­ons and deba­tes and voting rights are being bund­led with indi­vi­du­al mem­bers. May­be the expe­ri­ence gai­ned is a huge chan­ce for post-corona times to redu­ce our 1.150 mem­ber strong par­lia­ment to a more workab­le size – and thus save a lot of money and speed up decisi­on pro­ces­ses considerably.
After rol­ling out all pos­si­ble government aid sche­mes for employees and com-panies the government has tur­ned to prop­ping up the many small busi­nes­ses in Ger­ma­ny as the­se are the back-bone of our economy.
Over­all Mes­sa­ge and atti­tu­de: For­get about Tou­rism Year 2020 and look at 2021! Start working on tailor-made reco­very plans for your busi­ness pro­bab­ly begin­ning with X‑mas packa­ges and sug­ges­ti­ons for X‑mas holidays.
Now, that the mas­si­ve work-load with trip can­cel­la­ti­ons and get­ting stran­ded tou­rist back is over most tra­vel com­pa­nies have put their staff on fur­lough or short-time work. DER Tou­ris­tik, TUI and FTI have gone on up to 80% short-time work for six mon­ths from April until Sep­tem­ber. Germany's short-time work sup­port is the lowest among all Euro­pean coun­tries with 60 respec­tively 67%!
After qui­te some pres­su­re from the government and the public, TUI and DER Tou­ris­tik have deci­ded not to rec­laim tra­vel agen­cy com­mis­si­ons for can­cel­la­ti­ons in order to sup­port liqui­di­ty among sales part­ners and espe­cial­ly KMUs.
Luft­han­sa Group shared its exten­si­ve plan for rest­ruc­tu­ring the com­pa­ny. The­se plans are con­si­de­red a strong and pret­ty sobe­r­ing signal for the who­le tou­rism indus­try in Ger­ma­ny if not even Europe.
In a nuts­hell: Luft­han­sa Group will put 21 long-haul air­crafts and 21 mid-range distance air­crafts out of ope­ra­ti­on. Which means a long-haul fleet reduc­tion by 10%!
Ger­manwings will be clo­sed down. 400 employees (500 pilots and 900 ste­wards) are made red­un­dant with immedia­te effect.
The long-distance net­work of Euro­wings, Aus­tri­an Air­lines, Swiss and Brussels Air­lines will also be rest­ruc­tu­red. More to come soon – and not good news.
Unfor­tu­n­a­te­ly, LH CEO Cars­ten Spohr is not over­ly opti­mistic with regards to world­wi­de busi­ness and tou­rism reco­very. Accord­ing to him it will take mon­ths until all natio­nal and inter­na­tio­nal tra­vel bans will be lifted and even years until world­wi­de tra­vel is back to pre-corona times.
Luft­han­sa Group shared its exten­si­ve plan for rest­ruc­tu­ring the com­pa­ny. The­se plans are con­si­de­red a strong and pret­ty sobe­r­ing signal for the who­le tou­rism indus­try in Ger­ma­ny if not even Europe.
In a nuts­hell: Luft­han­sa Group will put 21 long-haul air­crafts and 21 mid-range distance air­crafts out of ope­ra­ti­on. Which means a long-haul fleet reduc­tion by 10%!
Ger­manwings will be clo­sed down. 1.400 employees (500 pilots and 900 ste­wards) are made red­un­dant with immedia­te effect.
The long-distance net­work of Euro­wings, Aus­tri­an Air­lines, Swiss and Brussels Air­lines will also be rest­ruc­tu­red. More to come soon – and not good news.
Unfor­tu­n­a­te­ly, LH CEO Cars­ten Spohr is not over­ly opti­mistic with regards to world­wi­de busi­ness and tou­rism reco­very. Accord­ing to him it will take mon­ths until all natio­nal and inter­na­tio­nal tra­vel bans will be lifted and even years until world­wi­de tra­vel is back to pre-corona times.
Frank­furt Inter­na­tio­nal Air­port – Europe's fourth lar­gest air­port after Lon­don, Paris and Schip­hol – clo­ses down Ter­mi­nal 2 effec­ti­ve April 7th. The air­port expects a decli­ne in pas­sen­ger num­bers of about 90 per­cent in the next weeks.
Just incredi­ble!
Some crea­ti­ve ide­as from restau­rants, hos­pi­ta­li­ty sup­pliers and hotels:
Sup­pliers sup­port restau­rants and hotels by post­po­ning terms of pay­ment, by offe­ring sup­port with buil­ding online plat­forms or by let­ting them use their own soft­wares. Bre­we­ries – very important in the coun­try of beer – even defer pay­ment until the end of the year!
Hotels offer rooms as home-office space e.g. Achat Hotels with more than 4.000 rooms in 33 cities. Rooms are equip­ped with all tech­ni­cal devices and you can even order room ser­vice and a hap­py hour beer!
B+B Hotels , 500 hotels in 12 coun­tries, offer rooms for spe­cial task for­ce staff such as mili­ta­ry per­son­nel, doc­tors, nur­ses, fire bri­ga­des etc.
Update No 1 / March 31, 2020
Ger­ma­ny is not on a com­ple­te shut-down yet but has restric­ted free­dom of move­ment con­si­der­ab­ly. Food sup­plies are almost as nor­mal, local mar­kets with fresh food and vege­ta­bles are still open and once a week shops even recei­ve new sup­plies of toi­let paper. Howe­ver yeast and flour are still rather low on supply ….
The over­all atmo­s­phe­re in Ger­ma­ny is ok-ish. A cou­p­le of poli­ti­ci­ans have been tes­ted posi­ti­ve on Covid-19 or are in self qua­ran­ti­nes – e.g. Ange­la Merkel.
The government has intro­du­ced a huge finan­cial sup­port pro­gram­me for the ailing indus­try, the solo entre­pre­neurs and basi­cal­ly for ever­yo­ne. Luck­i­ly our eco­no­my was rather strong in the past and our tills are full with cash.
The hos­pi­tals are gea­ring up to be as much rea­dy as they can for when the health situa­ti­on gets worse. It is iro­nic that even Ger­man doc­tors had to see and try trea­ting Ita­li­an and Spa­nish pati­ents first befo­re they ful­ly unders­tood the effects of this virus and the limi­ted help they can actual­ly offer if the worst comes to the worst.
The­se heart­brea­king and beyond-imagination reports from nur­ses and doc­tors have hel­ped to final­ly spread the mes­sa­ge that we are not tal­king about flu symptoms.
Ger­ma­ny is facing the same pro­blems with medi­cal sup­plies and men and women power as all the other coun­tries figh­t­ing the virus.
Our mor­ta­li­ty rate is still con­si­der­ab­ly low howe­ver with a much hig­her per­cen­ta­ge in other than the pre-defined high risk groups.
Pos­si­ble explana­ti­ons for the low mor­ta­li­ty rate: very ear­ly social distancing mea­su­re; the no-kiss gree­ting cul­tu­re (as oppo­sed to Ita­ly, Fran­ce), the high num­ber of sin­gles living on their own and without child­ren – and pos­si­b­ly the high num­ber of peop­le who got their annu­al flu vaccination
Of cour­se the­re are many initia­ti­ves whe­re com­pa­nies start sewing masks or pro­du­cing saniti­zers and so on….
We see a lot of initia­ti­ves and crea­ti­ve mea­su­re to gene­ra­te inco­me in the­se uncer­tain times. Howe­ver, this initia­ti­ves are all local and main­ly tap into the crea­ti­ve sup­ply of ever­y­day needs.
They are all on fire! We've got a strong deba­te going on about vou­chers ins­tead of cancellations.
All flights in and out of Ger­ma­ny are sus­pen­ded. Luft­han­sa has announ­ced that until the end of 2020 they plan to fly only 8 % (eight) of their usu­al regu­lar flights. If they real­ly do so then we are back at the num­ber of flights in 1956!
Most of the hotels are clo­sed as the who­le busi­ness tra­vel has come to a standstill and leisu­re tra­vel is no lon­ger recom­men­ded or banned.
Hotels have not been asked yet to be stand-by for Covid-19 pati­ents. But this is pro­bab­ly only a ques­ti­on of time.
Some hotels have announ­ced some non-sensical coro­na stay-away packa­ges. We can­not say whe­ther they are suc­cess­ful or not. It doesn't seem to be the right thing to do at this moment.
The Con­dor deal is sud­den­ly under pres­su­re as the Polish com­pa­ny that bought Con­dor (PGL) insists on enor­mous finan­cial gua­ran­tees from the Ger­man government now. The government will not give the­se guarantees.
Tra­de media is full with expert infor­ma­ti­on on how to cope with the cri­sis on all pos­si­ble levels. Legal advice, busi­ness plan advice, psy­cho­lo­gi­cal advice etc.
The­re is no post- coro­na stra­te­gy or plan­ning yet and it would not be credi­ble anyway.
Con­su­mer media still print tra­vel sto­ries on- and off­line as they still have a lot of such sto­ries in stock. Howe­ver the dai­ly news­pa­pers and tra­vel sec­tions have beco­me slim­mer and most­ly run sto­ries with a Coro­na angle
Online media send their rea­ders on digi­tal dream journeys.
Influ­en­cers have eit­her gone on digi­tal shut-down or are in #throw-back mode sharing their best tra­vel memories.
PR-Agentur mit über 25 Jahren Erfahrung
Text&Aktion ist eine Inha­be­rin­nen geführ­te PR-Agentur mit über 25 Jah­ren Erfah­rung im Bereich Public Rela­ti­ons, Tou­ris­mus PR, Brand Counselling und stra­te­gi­scher Kommunikation.
Spre­chen Sie uns an – damit Sie gehört, gese­hen und ver­stan­den werden.